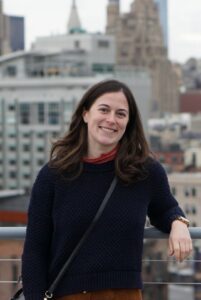 Taisy Conk
Program Director, Community Food Action
(718) 716-8000 x116

t.conk@newsettlement.org
Taisy has loved good food her whole life and is always looking forward to her next meal. Growing up in New York City, she was exposed to cuisines from around the globe, but was also aware of the predominance of cheaply made processed food. Taisy first came to this work to address the damaging and disproportionate health impact of processed food on low-income families and communities of color. As she steadily became aware of the systems and structures in place that propagate food that is bad for the body, for communities, for workers, and for the environment, Taisy became determined to join efforts to restore truly nourishing food to our neighborhoods.
Taisy Conk came on board to New Settlement as the Community Healthy Food Advocate through Communities for Healthy Food in 2013.  Since then, she has built the program from the ground up with the support of her passionate team members and committed partners.  Prior to working at New Settlement, Taisy conducted food access and physical activity research in New Orleans and was a Patient Navigator at a safety net hospital in Boston. Taisy holds an MPH from Tulane University in Global Community Health and Nutrition.  Having lived, gone to school, and now worked in the Bronx, Taisy is proud to have the opportunity to transform the neighborhood food landscape alongside Bronx youth and adults.
Taisy's favorite place to grow, cook, or eat food in the Bronx is City Island.